ARCHIVES vintage articles: blasts from the past!
Have A Party With Eryn!
Here's To Sharman Howe and Alfred Nittoli! and here's to their precious dog Gaetano as well!
Frankie Valli For President!
The Jersey Girls At Rock Con!
The Connie Francis Gala
The Charlie Calello Show
ARTIST SPOTLIGHTS
Lillie Bryant: La dee dah, oh boy ... here's her story!
Jo-Ann Dumas: The Girl Of Many Groups!
Kathy Linden: The musical and inspirational story of the "Billy" and "Jimmy" girl!
Diane Renay: She was "Blue Navy Blue" and "Blue Beatle Blue"!
Madeline Rodgers: From Jersey Beauty Queen to Nashville Recording Artist
BEEHIVE THEATER "gimme a head with hair" ... there's plenty of 'em here!
BEHIND THE SCENES
BERNADETTE CARROLL
BOOKS fabulous reads!
"The D.A.'s Forever" by Laura Pinto
"Teach Me Tiger!" by April Stevens
"Girl Groups: Fabulous Females Who Rocked The World" by John Clemente
BRILL BUILDING
CLAY COLE THEATER
Marcia Habib's Sh-Boom Party plus two slideshows
Biography
Photo Gallery
Tributes to a Legend
Clay's book "Sh-Boom!: The Explosion of Rock 'n' Roll (1953-1968)!
DAILY NEWS
DELICATES
Biography
Photo Gallery
The story of "Black And White Thunderbird"
Other Recordings
Belleville Memories
article - "Alan Freed: The Fall (1958 and after)"
FOTO FUN! view random photos from the Jersey Girls Sing website!
GONE BUT NOT FORGOTTEN people we've lost whose wonderful contributions will live forever
GUEST BOOK view comments from our visitors and write your own
HALL OF FAME
HOME
JERSEY BOYS
LINKS links to our music family
MUSIC BOX MEMORIES
NEWS REAL real stories behind the music
PETER VACATION COUNTDOWNS "a face made for radio - a voice made for mime!"
PRECIOUS MOMENTS
RADIO CITY (many more wonderful air personalities will be added shortly)
Murray The K
Bill Brown
RONNIE ALLEN THEATER
Radio Pages
"Ronnie Remembers" more than 100 radio interview shows!
"Nutty but Nice" nine radio shows chock full of goofy records!
Record Page an eclectic sampling of 765 recordings!
Video Pages create your own video page from a selection of 290 videos!
Small Talk
"Snippets On Demand!" can you name that oldie by hearing five seconds or less of it?
Trivia Page
Countdown Game find out if you have music ESP!
Interview Trivia Quiz
SLIDESHOWS
Delicates Gallery
Bernadette Carroll Gallery
"Precious Moments" Gallery
Clay Cole Gallery
"Hall Of Fame Tributes" Gallery
Teddy Randazzo Gallery
The "Jersey Girls At Rock Con" Gallery
"Charles Calello Show" Gallery
"Connie Francis Gala" Gallery
"Beehive" Gallery
SNIPPETS ON DEMAND! Ronnie's exciting "name that oldie" game to test your musical knowledge!
YAGGETTES Yet Another Girl Group ... ending in "ettes"!

---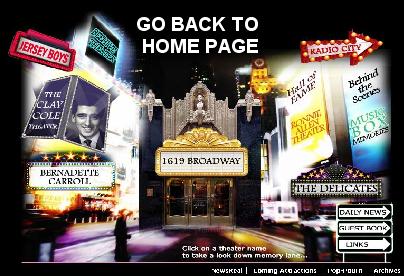 ---



RECORD PAGE | TRIVIA PAGE | SMALL TALK

BERNADETTE CARROLL | THE DELICATES
| CLAY COLE




Behind The Scenes | Daily News | Guest Book | Hall Of Fame | Links | Music Box Memories | NewsReal | Precious Moments | Radio City | 1619 Broadway


---