Kathy Linden was a Jersey girl from Burlington who had one of the sweetest voices this side of pop music heaven and who became a sensation in 1958 with her catchy and memorable recording of "Billy." But, unbeknownst to most, she had created a firm musical foundation in the years prior to her so-called "overnight success."

Kathy first appeared in public as a tap and ballet dancer at the age of five. She started taking piano lessons at age six and sang her first vocal solo at age 11. The following year, Kathy started learning to play the violin. During her junior and senior years she sang in chorus and played in orchestras throughout high school, most notably with a string quintet called the "Singing Strings," who entertained many organizations in New Jersey and Pennsylvania. In 1955 Kathy played in the University Of New Hampshire Youth Orchestra. She was also a soprano soloist with the All-State Chorus and studied at the Philadelphia Conservatory of Music. Her ambition at the time was to become a "serious" violinist; however, that ambition would soon be abruptly changed.

She was singing with a small band in a restaurant in New Jersey in 1957. A songwriter heard her and took her to meet bandleader-producer-musician Joe Leahy who was with National Records. Joe signed Kathy up at their first meeting and her first release, a ballad entitled "It's Just My Luck To Be Fifteen," became a regional hit selling 35,000 records. But she didn't hit the jackpot until the next release, produced and arranged by Joe, which came out on Felsted Records.

Because "Billy" fit Kathy like a glove, most people who heard her recording probably assumed that it was written especially for her. But actually the song had been written back in 1911, by Joe Goodwin, James Kendis and Herman Paley, and first appeared on cylinder recordings. Joe Leahy decided that Kathy should record it and he encouraged her to sing it in a way that sounded younger than her "real" voice. Her 1958 version of "Billy" (including a backup vocal by Joe that is heard throughout the record) took the nation by storm, getting to #7 on the Billboard national chart. Kathy was now a recording star and from that point on her violin was primarily in her rear view mirror. Her follow-up single, her rendition of Irving Berlin's "You'd Be Surprised" in which she used a similar "young" vocal style, also made the Billboard national chart.

At that time Kathy was appearing on all of the top TV music shows. They included those hosted by Ed Sullivan, Lawrence Welk, Dick Clark and Steve Allen and regional shows throughout the country. As for Steve Allen, he took a special shine to Kathy and he wrote several "boy" songs for her first album, on Felsted, entitled "That Certain Boy."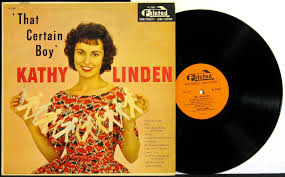 In the spring of 1959, Kathy had her second major hit with a wistful ballad entitled "Goodbye Jimmy, Goodbye." It was the only hit tune ever written by Jack Vaughn, at the time a radio program director at WNAX in Yankton, South Dakota. Kathy was especially happy because she was allowed to record it using her "real" voice. Her touching recording reached #11 on the Billboard national chart. The individual sides of her follow-up record, "You Don't Know Girls" and "So Close To My Heart," appeared on different trade paper charts: "Girls" made Billboard and "Heart" made Cash Box.

Largely because Kathy wanted to record country music and to work with the top creative people in that field, she signed with Monument Records in 1960. While recording at their RCA Studios, Kathy was backed by the absolute cream-of-the-crop personnel including guitarist Chet Atkins, pianist Floyd Cramer, saxaphonist Boots Randolph, bass player Bob Moore and the Anita Kerr Singers. Several songs that Kathy recorded in Nashville became regional hits, most notably "Midnight" - her personal favorite - which was written by Chet Atkins and Boudleaux Bryant and, according to Kathy, is still getting significant airplay in Texas.

Kathy moved to California in 1961 and re-united with Joe Leahy, releasing "Put This Ring On My Finger," a song that she wrote by herself, on the R.P.C. label: it received a lot of regional attention across the country. She then signed with Capitol Records in Hollywood. After a few releases, she decided to retire from show business. She lived on a ranch with her husband and their three sons. They had three horses and her favorite was Shane. Her greatest joy during those years was riding Shane on an English saddle all over the valleys and mountains near their ranch.

Kathy says that her life changed enormously around 1980 when she became a Christian and started writing gospel songs and singing and speaking wherever she was invited. In 1985 she was interviewed and sang on the "Joy Program" on TV. In 1992 she made a pilgrimage to Israel and led the music on the boat on the Gallilee and at "other famous places where our Lord walked."

In 1994 Golden Sandy Records released a CD compilation consisting of Kathy's recordings from four different labels. It was entitled "That's What Love Is" and it included 34 selections: most of the tracks from her Felsted album "That Certain Boy" (including "Billy") plus all of her other hit singles plus several more. It is still available from the top online sellers.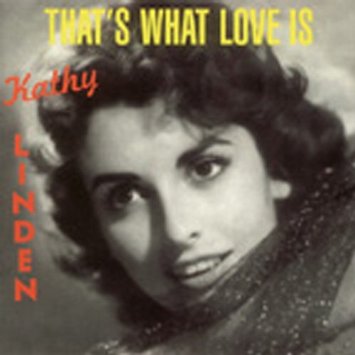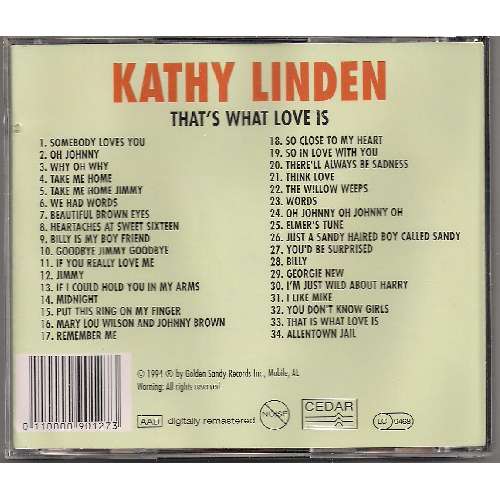 Borrowing a leaf from Johnny Cash, Kathy led music in the prisons of Southern California for three years. In her own words: "What an experience; from the highest security prisons, and some of the least security. I have a hanging wooden art work from one prison that the inmates made which said 'Kathy, Our Lord's Singing Angel.' Isn't that sweet? I have it in my den. I am so blessed by that."

Though she is not presently doing performances as a pop singer, she is keeping very busy musically. She is writing many gospel and country and western songs plus piano compositions for films. Her desire is to record some of the new songs, either by herself or with other artists. The "Billy" and "Jimmy" girl is looking forward to introducing several of them some time later this year and those who have admired her music for close to 60 years will undoubtedly be most appreciative. Two of her recent country gospel efforts are included at the bottom of this page.


---
---
EXCLUSIVE!

Here's two recent country gospel songs that Kathy wrote and sang.
(She also played the piano.)

One Step At A Time

Please Play It Again


---