NewsReal
Over the years there has been much incorrect information and significant omissions in books and on websites regarding our work. Now, on this page, we will provide you with the real news.
Murray the K's 1959 theme songs ...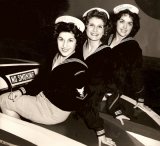 The "Submarine's Race Watcher's" Theme and the opening and closing "Red, Hot and Blue" themes heard daily on Murray's legendary 1010-WINS New York City "Swingin' Soiree" radio show were written and sung by the three Delicates: Denise, Arleen and Peg.

Angels sessions ...

Bernadette was part of the three-part harmonies on all the Angels recordings on Smash.

Bob Crewe's backup sessions (excerpted from popculturecantina.blogspot.com) ...



Crewe's sessions weren't all-male affairs, though; he was partial to female backing voices. By 1964, he'd hired Ellie Greenwich as his regular vocal contractor. "(She) had access to every good singer in New York!," he raved years later. He considered Greenwich the best singer of all, and insisted that she work on as many of his studio dates as she could. Sometimes, he even had her harmonize with The Four Seasons! "I think everybody wanted (backing vocalists) who sounded like Ellie Greenwich or Dusty Springfield, really, overdubbed versions of those voices. That was the sound that was happening." Most often, he used La Greenwich in a trio that included session stalwarts Mikey Harris and Jeannie Thomas. Popularly known as "Les Girls" in New York musicians' circles, this group sometimes added a fourth singer like Valerie Simpson or Patti Austin. Girl Group vets Bernadette Carroll, Denise Ferri and Peggy Santiglia also sang background for Crewe, as did ensembles like The Glitterhouse, The Hi-Fashions and The Toys on occasion.



Lou Christie sessions ...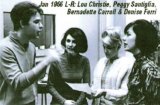 The back-up singers on most of Lou Christie's MGM recordings, including the #1 hit "Lightning Strikes" and "Rhapsody In The Rain," were Bernadette, Denise and Peggy. Note: the vocal arrangements for these songs were created by Lou Christie with the help of the girls.
Frankie Valli sessions ...

The back-up singers on "You're Ready Now," "The Proud One" and "Cry For Me" (which is featured in the Broadway smash "Jersey Boys") were Bernadette, Denise and Peggy.
Patty Duke sessions (excerpted from www.dustbury.com/music/duke.html) ...


Rule 1-A in the manual for Starmaking Machinery, Teen Division, is Cover All Bases: musicians make movies, movie and TV stars sing, and with twice the press coverage, you theoretically have four times the stardom. This works a lot better than it has any right to; while some of the results are debatable (vocals by Jennifer Lopez, all but a handful of Elvis movies), occasionally somebody gets, if not a silk purse, at least a decent bag. By 1965, Patty Duke, then eighteen, was unquestionably a star of stage and screen, having conquered Broadway and then scored an Academy Award for The Miracle Worker. How she ended up in a television sitcom is anyone's guess, but The Patty Duke Show was a fair-sized hit for ABC for three seasons, and it was inevitable that someone behind the scenes would try to make a singer of the young lady. "Don't Just Stand There" is an utterly conventional tale of Teen Love Gone Wrong, surrounded by enough orchestra and chorus to make you forget that Patty (possibly with "identical cousin" Cathy, what with the obvious double-tracking of the lead vocals in spots) is actually an actress working outside her specialty. But her acting talent serves her well even here; Patty hits just the right mixture of pleading and petulance to make the record work. The uncredited background vocals, contributed by Bernadette "Party Girl" Carroll, Denise Ferri and erstwhile Angel Peggy Santiglia, who also backed up Lou Christie on some huge hits and recorded as Jessica James and the Outlaws on their own, provide exactly the right response to Patty's call. "Don't Just Stand There" crept into the Top Ten, prompting United Artists to push out an album (UA 3452/6452 stereo). There would be two more Duke chart singles (one double-sided!), a couple more albums and a Greatest Hits set, before the party and the TV series ground to a halt and Patty, eventually reclaiming her given name of Anna Marie, would go on to other things, but as a purveyor of adolescent angst on vinyl, this was her finest hour. Her finest two minutes and thirty-two seconds, anyway.
Who were the back-up singers on Jessica James and the Outlaws? (excerpted from Lou Christie International Fan Club Home Page) ...


LOU CHRISTIE sang back-up on the chorus of "WE'LL BE MAKIN' OUT" (© May 13, 1966) by JESSICA JAMES AND THE OUTLAWS (dynoVoice single 220, Billboard review May 21, 1966) on Bob Crewe Presents
The dynoVoice Story
The Label That Had To Happen
1965-68
Westside WESD 226
2 CD Set
57 Tracks
Released April 2001
Deleted October 2001

JESSICA JAMES AND THE OUTLAWS (= Denise Ferri, Bernadette Carroll and Peggy Santiglia) sang back-up on most Lou Christie MGM recordings including "RHAPSODY IN THE RAIN" (recorded January 8, 1966) which was BANNED in March 1966 because of the line "We were makin' out in the rain." The drummer on "We'll Be Makin' Out" plays several fills that recall Lou Christie's "TRAPEZE."