Jersey Boys is a musical based on the life story of one of the most successful 1960's rock and roll groups, The Four Seasons.

Jersey Boys premiered at the La Jolla Playhouse in California on October 5,2004. It ran through January 16, 2005.

The musical opened on Broadway on November 6, 2005, at the August Wilson Theater starring John Lloyd Young as Frankie Valli, Christian Hoff as Tommy DeVito, Daniel Reichard as Bob Gaudio and J.Robert Spencer as Nick Massi.

The musical won four Tony Awards including "Best Musical" and best acting awards for Young and Hoff.

It has been breaking ticket sales records every week.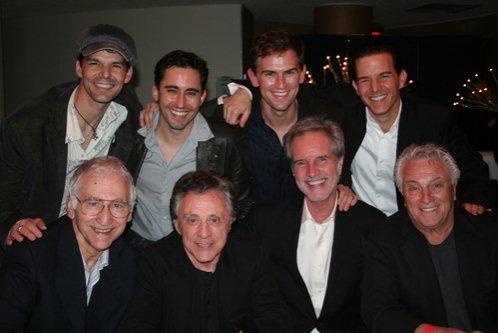 THE JERSEY BOYS MEET THE "JERSEY BOYS"!
Top row, left to right: J. Robert Spencer, John Lloyd Young, Daniel Reichard, Christian Hoff
Bottom row, left to right: Joe Long, Frankie Valli, Bob Gaudio, Tommy DeVito